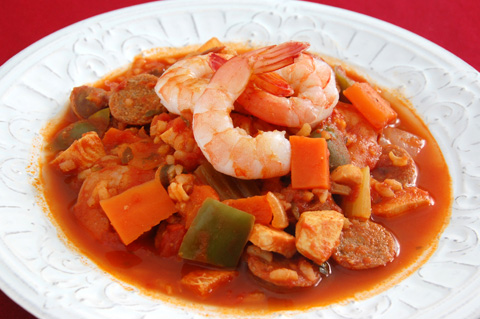 This recipe I found on chefmom.sheknows.com. I was going through recipes online and this picture attacks my eyes and triggers my saliva gland so much
=)
that I have to post here even I haven't made it yet. Definitely, after next week ... since I have another midterms is coming next week. Another thing I like about this recipe is that the ingredients list is quite simple and those are easy to find at any grocery store, which is perfect for a college student like me.
Enjoy cooking!
Ingredients
1 pound boneless, skinless chicken breasts, cut into bite-size pieces

1 1/2 tablespoons flour

2 teaspoons olive oil

1 pound sweet potatoes, peeled and chopped

1 yellow pepper, chopped

1 cup onion, chopped

2 cups water

1 28-ounce can diced tomatoes

2 1/2 tablespoons chili powder

1 tablespoons minced garlic

1 teaspoons dried oregano

1 cup frozen corn

1 can kidney beans, rinsed

1/2 cup chopped cilantro
Directions
Toss the chicken with the flour.

In a heavy Dutch oven over medium heat, heat half the oil. Add the chicken and brown, about 5 minutes total. Transfer chicken to a bowl.

Heat the remaining oil and add the sweet potatoes, pepper and onion. Cover and cook about 6-8 minutes.

Add the water, tomatoes, chili powder, garlic and oregano. Bring to a boil, reduce heat and simmer, covered for 10 minutes.

Add the chicken back in and simmer another 5 minutes.

Add the corn and beans and simmer another 5 minutes.

Stir in the cilantro, remove from heat and serve.